As I headed toward the hotel in Houston with my fellow OTC-goers I felt nervous and excited. This was my first time leaving Europe, never mind the fact I was heading for the biggest oil and gas conference in the world.
If it was the distance from home I was worried about then my mind was instantly put at ease when we entered the Hilton Post Oak hotel. Aberdonian accents filled the entrance lobby and I even spotted a few familiar faces.
I couldn't help but wonder: what would this trip mean for Fifth Ring and more importantly for our clients?
Listening to the Scots at the pool party the night before OTC one thing was clear: no one could guess what the vibe of this year's show would be following the tumble in oil price that started in summer 2014.
Obviously, like many other economies which have strong ties with oil and gas, Houston's been suffering from the latest slump too, so I was expecting the Americans working in the industry to share our concerns. But, it appears Houston does not have a problem.
The NRG centre, where I spent the majority of my time at the show, was buzzing and the American positivity felt like a hug which a lot of us needed.
The downturn was expressed on the showroom floor and at various events as an opportunity to collaborate and work as one to weather out this storm. Solutions like standardisation and relevant innovation were voiced as a way that operators and the service sector could move forward.
And it didn't stop there. Clients like Peterson, which was exhibiting at the Scottish Pavilion, said it was sensing real business opportunities and even talking about next year.
Obviously, I've no comparison to any other year but the show was busy despite it being 12.6% down on last year's delegate numbers.
OTC presents a global stage, so what better way to announce our strategic alliance with Brazilian agency, Zoom Out, than at an evening event following the second day? The new relationship opens doors for us to expand our presence in the region so it's a really exciting time for us and our clients.
The Energy 2050 survey results from Energy Voice for which we sponsored the launch, was another highlight for me. It was great to see a newfound confidence among the US and UK participants.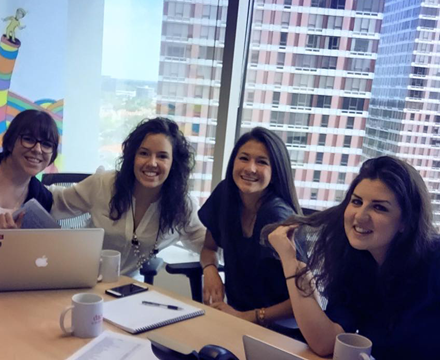 My time during the week of OTC would not have been the same without Andrew Bradshaw, Fifth Ring PR director and head of energy insight, and Ed Davis and his Houston team.
Andrew showed me some of the city's attractions – including the Galleria and the newly opened Fifth Ring Houston offices nearby – and Sam and Laura took me to the Karbach Brewery for some of the best local beer around which some may have spotted in Ed's OTC guide.
I'm happy to say my time in Houston's not over yet – Ed's managed to get me into a behind-the-scenes tour of NASA!
Must dash – the Texas BBQ and ice cold beer awaits – now that's fuel I'm prepared to bet my bottom dollar will always be in high demand!