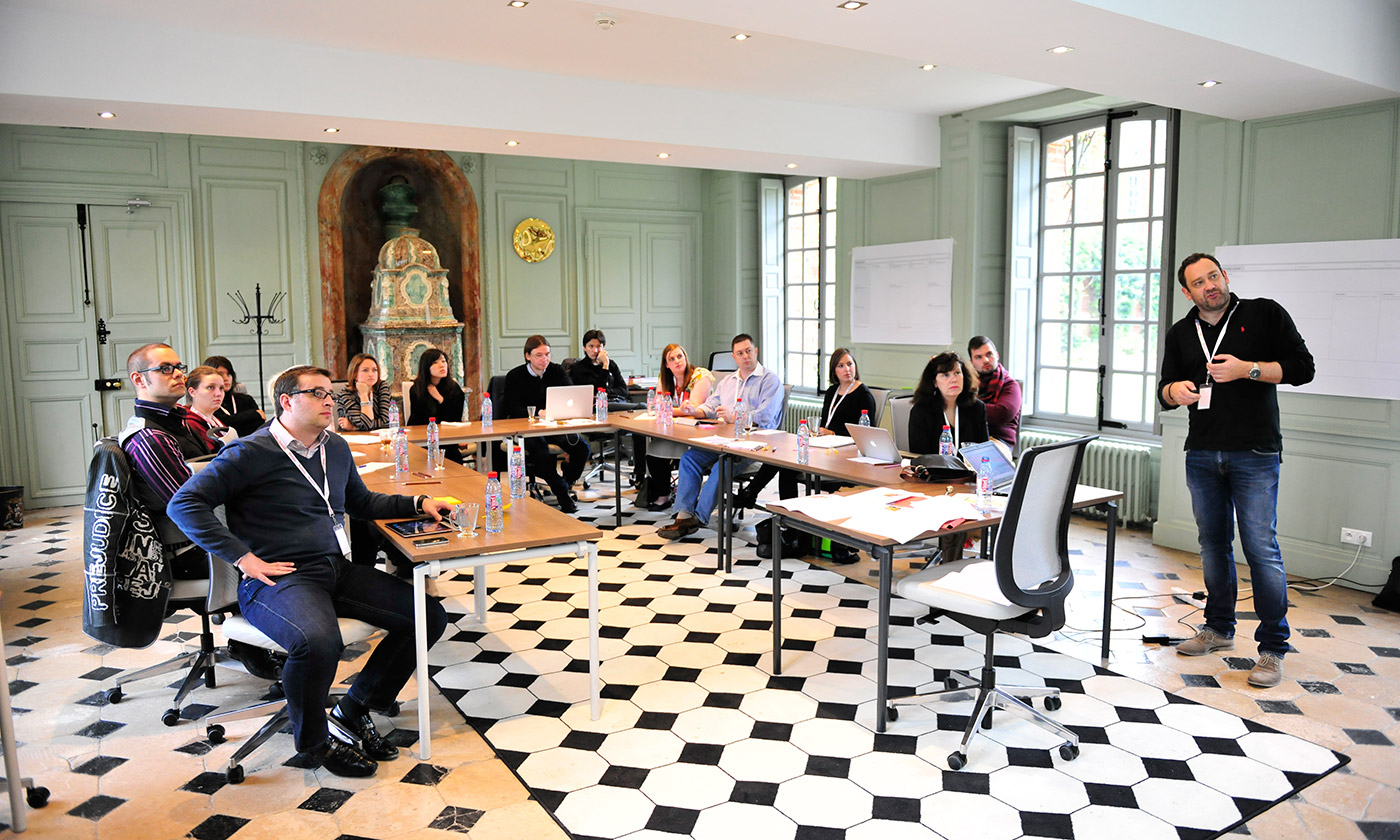 Having arrived at Chateau de Guermantes, located just 30 minutes outside of Paris, already on a high from the previous week's BMA Conference in London, I was really excited about the prospect of spending two whole days with 60 other B2B marketing professionals from around the world all passionate about what they do.
And boy . . . I was not disappointed! Having arrived late afternoon, there was just enough time to mingle with a few familiar faces over a cup of tea, before heading to dinner to meet some 'newbies'. The gallery and dinner halls were very impressive with high ceilings and luxurious décor, complete with rickety old floorsboards, chandeliers and Renaissance art covering the walls, you really did feel you were in a 'mini-Versailles' and I had the sudden urge to dance around in a long flowing dress!
After an early night, day one kicked off at 8.30am sharp. I was in the blue group that consisted of agency leaders, directors and board members. Our group's task was to review the BBN business plan, presented by BBN's executive director and group managing director of Fifth Ring, Clif Collier, and consider the question 'What are the things that BBN can do to help you most to develop your business?' It will be interesting to see some of the responses in due course.
Mark Rushton & Doug Leith from STC Global were invited to the Academy to present their initial ideas and proposal for helping us to package our processes and toolkits and provide support to integrate, train and engage the network agencies in Brand Asset Management (BAM), Technical Enabled Contact Strategy (TECS) and the Big Long Idea (BLI). After an introduction by Mark on day one, Doug conducted a workshop with the group on day two, which was really interesting and highlighted some of the challenging scenarios presented by a global network attempting to embrace common processes and best practice. We all eagerly await the outcome a few months from now.
Following STC, I presented a session on 'Networking the Network', which highlighted five critical reasons to network in BBN, together with some guidance on how you go about it and the serious consequences if you don't. The full presentation is available to view here.
Rob Morrice Managing Director of IAS b2b and current chairman of BBN, gave a brief presentation on the future strategy for promoting the network and business development.
Later Ed Davies from Fifth Ring in Houston presented the business case for PR and how agencies should be encouraged to embrace the discipline and integrate it into their agencies either through a partnership or in-house. The agencies who already offer PR as part of their integrated offering raved about the success and growth potential of this service offering for any B2B marketing agency.
Andrew Dalglish and David Willan from the UK based, Circle Research presented their case for integrating business-to-business research insight into all B2B campaigns. Their claim is they create Eureka! moments – deep insights into a brand, customers and market - insights, which will transform the view of a situation and provide a powerful competitive advantage. Circle provides a logical partnership opportunity for BBN and I'm positive our relationship with them will 'live long and prosper'.
Clif summarised at the end of day one and we concluded the evening with another amazing dinner served by the Chateauform team!
Day two kicked off with all delegates gathering in the Gallery for a presentation by Timo Kruskopf, managing director of idBBN in Finland on the marketing automation software Eloqua. Since BBN are now an official partner for this highly effective system, it was interesting to see how as individual agencies we can benefit from using it and offering it to our clients. It was particularly interesting to see the huge business success rate that idBBN had already had with Eloqua over the past three or so years.
Next, as already mentioned, the blue group then took part in a workshop led by Doug Leith from STC Global where we focused on how we were to take agencies from 'sleepers' to 'Man United' status!
As my itinerary finished after lunch I decided to gatecrash the creative party where ten creative directors were busy musing and brainstorming over three potential 'Big Long Ideas' for promoting BBN over the next twelve months. If I'm really honest this was the best bit of the whole two days and I can't wait to see Rueben Webb, creative director at IAS b2b coming hurtling out as a human cannon ball at the next Academy!
Everyone worked hard over the two days, so it was only fitting that on the last evening we partied hard too . . . in fact I hear a few made it to watch the sunrise
. . . well done!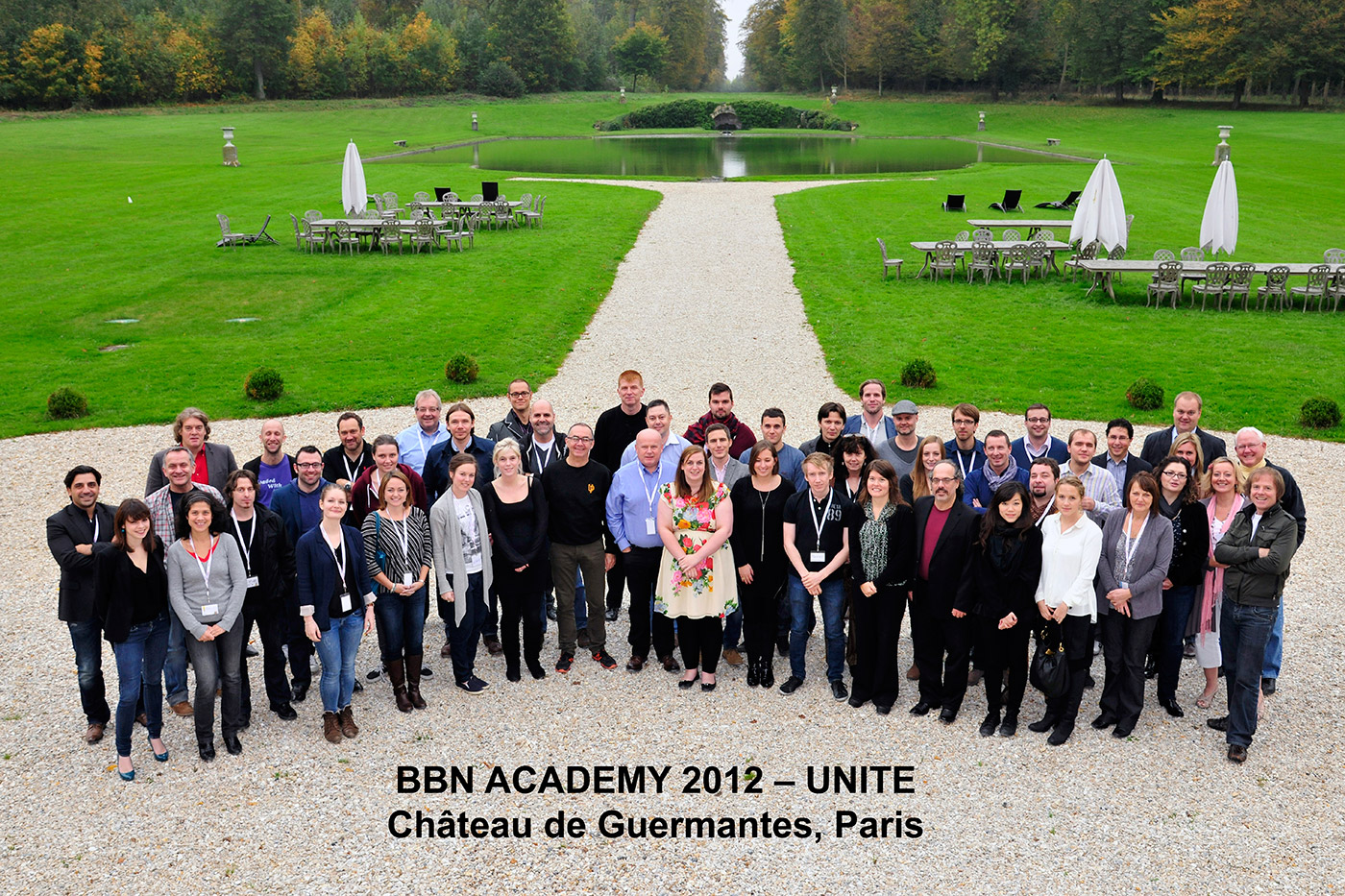 Finally, a big thanks to Clif Collier, Rob Morrice and especially Jessica Stewart for making this one of the most successful Academies yet and I hope I'm lucky enough to be part of the next one. I really look forward to what, I believe, will be the most exciting year ahead for BBN.